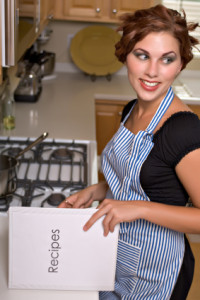 When I entered the fitness industry back in 1989 the topic of calories was very cut and dry.  In order to lose weight you simply needed to burn more calories than you were taking in.  Fast forward to today and research is proving that there is way more to the weight loss equation than simple math and a person's willpower.  In fact, research proves that weight loss is controlled by how our body is functioning more than our own self-control.
I've been helping people lose weight for over twenty six years and there was a time when a person's inability to lose weight would be blamed on an over-reporting of physical activity and an under-reporting of food intake.   While I agree that this does happen from time to time, modern technology such as activity trackers, electronic food journals, and clinical studies are all helping researchers prove it's usually not the case.  What we're finding is that biology has more to do with a person's ability or inability to lose weight than anything else.  I've worked with clients that were honestly filling out food journals and reporting their exercise.  Based on the old "calories consumed versus calories burned" math they should have been losing weight but the needle on the scale was not budging.  This not only frustrated them, it  prompted me to help figure out why.
Fitness, just like medicine, is always changing and fortunately we seem to be gaining more knowledge and common sense.  We are learning why the diet industry has a ninety five percent failure rate.  We are also learning how to help people not just lose weight but make balanced food choices that promote long-lasting weight loss while positively contributing to their overall health and well being.  The time has come to just say no to restrictive dieting and yes to healthy living.
Three Things You Can Do To Lose Weight Without Ever Dieting
Avoid low calorie restrictive diets.   It's no secret that if you starve yourself you will lose weight quickly which is what makes restrictive diets so appealing.  The problem is eventually everyone gains the weight back.  Research shows that you need to eat food to lose weight.  When you cut calories way back or eliminate entire food groups, the body fights back.  Your metabolism will slow down to make up for the reduction in food and you will be hungrier.  Your level of satiety can change which will make you feel less satisfied with an otherwise normal portion size and more obsessed with higher-calorie processed foods.
Instead of restricting what you eat, you'll find more success when you focus on a balanced diet that is centered around whole foods. A balanced diet includes carbohydrates, proteins, fruits and vegetables, healthy fats, and water. Any diet that cuts one of these important nutrients out should be avoided.
Cut back on Simple Carbs.  This is huge!  All calories are not created equal.  A can of soda and a handful of nuts may have the same calorie count but they affect your metabolism in VERY different ways.  Sugary snacks and drinks, and low fat highly processed starches, can cause your body to store calories as fat which can then cause fat cells to increase in number and size.  Processed carbs and added sugar in foods can program fat cells to grow and as a result cause someone to overeat.  When you limit the simple carbs and focus on eating mostly whole foods, it's much easier to lose and/or maintain your weight.
Don't be afraid to eat fat.  Whenever I review a new client's food journal this is usually one of the number one nutrients I notice is lacking in their diet.  Dietary fat is not only helpful, it's necessary for long term weight loss.  The body gets really good at storing what it doesn't get enough of.  Based on the current research and an understanding of how the human metabolism works, I personally believe the low fat diet craze has contributed to many of the weight issues that people struggle with.
Olive oil, nuts, an monounsaturated fats are all part of a healthy diet and research is even taking a second look at the value of saturated fat in our daily lives.  Studies have shown that people that consume dairy have less belly fat.  Stick to whole dairy and avoid the low fat versions.  The idea is moderation.  Butter and cheese are meant to be consumed in small amounts.
Just like calories, not all fat is good for you.  Avoid chemically processed fat like partially hydrogenated oils also known as transfats which are usually found in boxed, frozen, and snack foods.  Transfats not only increase levels of harmful cholesterol in your body they inhibit your body's ability to make good cholesterol.  Not a good combination so it's best to stay away from them entirely.
These simple dietary strategies combined with moving more, getting plenty of sleep, and limiting stress in your life are not only the healthiest and most effective way for you to lose weight, they also help you maintain balance in your life.
To your long term health and fitness!
With Love,
Jennifer
The material in this article is intended for informational purposes only and not intended as a substitute for the advice and care of your physician.  Always consult with your physician before starting a new weight loss program or making major changes to your diet.
Facebook Comments:
comments