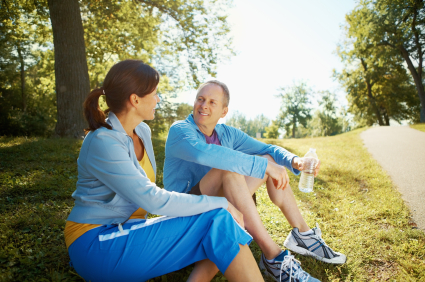 Have you struggled with losing weight, staying on a diet, or sticking to an exercise program? If the answer is yes, you are not alone. Forty five million Americans diet each year. We spend a whopping $1-2 billion per year on weight loss programs. Yet, Americans are still struggling to lose weight and keep it off for good.
A 95% Failure Rate!
So why aren't these weight loss plans working? The answer is simple. Diets have a 95% failure rate and new research is telling us that exercise without nutritional intervention shows minimal to no weight loss either.
I am not here to discourage you. However, I want you to know the truth because the media tries to sell you a bunch of garbage and hype around health and fitness on a daily basis.
Now for the good news!
The way you lose weight and keep it off for good is by creating a healthy lifestyle. A healthy lifestyle is created by adopting a healthy habit one step at a time. Once a habit becomes as natural as brushing your teeth, it has become a part of your lifestyle and is very hard to break. It's simple. However, it does take effort.
The top habits for weight loss and a healthy lifestyle!
1) Baby Steps.  It's important to remember that this is a journey for life and not a sprint. Be conservative when setting weight loss goals.  Under-promise and over-deliver to yourself. One habit will lead to another, which leads to weight loss and management you couldn't even imagine existed. To learn more about setting successful weight loss goals, read Baby Steps Lead to Permanent Weight Loss.
2) Meal Plan.  If you want to guarantee your success and remove the stress, then plan! In the beginning you may think you just don't have time. Meal planning will save you time and is a critical part of successful weight loss. Not sure how to meal plan for weight loss? Refer to Meal Planning Helps You Lose Weight for  an easy step by step guide.
3)  Eat Out Smart. I encourage you to eat out and enjoy a great meal. Unfortunately, eating out often can sabotage your weight loss efforts! The average American eats out 4-5 times per week. Eating out this often can add an additional 670 calories to your weekly consumption. That's an extra 10 lbs per year!
Eating out used to be a treat when I was growing up. However, with today's fast paced lifestyles and global business market, it has become a major part of our diet. If it's impossible for you to avoid eating out you, can avoid gaining weight if you follow some simple guidelines.
Start off by using sites like healthydiningfinder.com. Type in your current location and review the nutritional information for restaurants in the area. Or, try an on line app if your restaurant is not listed. Most apps will have general guidelines for restaurant meals. Stick to lower calorie meals and beverages that have little to no calories — unless it's a special occasion.
4) Ignore the outside chatter! Stick to what works for you. There will always be some new diet or pill, a well-meaning friend, and Lord knows the magazines waiting to tell you that your plan is not ambitious enough. Or, that their way is better. My favorite is the person posing and asking "don't you want to look like me?"
Now, I'm not saying to be closed-minded on a better way of doing things. I'm saying you should always question if a health or fitness idea fits into your life and values.
5)  Speak Success! Tell your body what you want, not what you don't want. When you look in the mirror, use phrases like "I am losing weight," or "I have a flat stomach."  In the beginning this can be tough. You tend to think "you are lying." However, you are not. In my favorite success book, The Bible, it says "speak as if it is already." This is called faith my friend! You are believing you can accomplish your goals!
Negative thoughts will enter your mind. That's normal. You're human! Just don't let them leave your lips. Replace each negative thought with a positive statement. If that's tough in the beginning, use one of my favorite personal quotes. If you don't have anything nice to say about yourself, don't say anything at all. You wouldn't say something that mean to a friend, so why say it to yourself?
Leave notes around the house as reminders to speak positively about yourself. This will help you build the mental muscles you will need to make success talk a habit.
6)  Don't Quit! One of the number one reasons people fail is they give up. They don't see results fast enough so they quit. Consistency is key. Use your "baby steps" to create healthy habits that you are able to maintain long term.
These really are the secrets to my clients' and my own personal success with personal weight loss. As you can see, there is nothing exceptional about them. You just have to get started and stick to it. I believe in you and I know you can do it!
Have a question or healthy habit you'd like to share? Please leave a comment below. I'm looking forward to hearing from you!
With love,
Jennifer