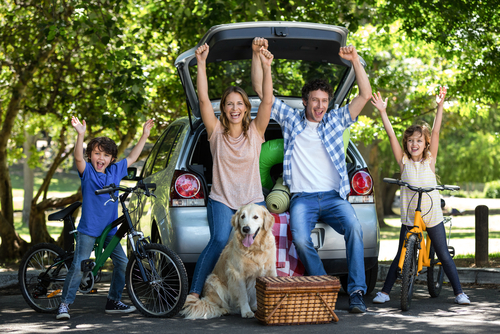 Summer has arrived! This means vacations and lots of outdoor festivities!
For many people, summer can be one of the easiest times of year to lose weight.  An abundance of daylight, outdoor activities, and fresh fruits and vegetables all contribute to easy weight loss.  However, long vacations and an abundance of picnics and parties can potentially hinder weight loss goals if we're not paying attention.  Fortunately, a little awareness and some planning can help you stay on track with your weight loss goals and still have a blast this summer.
Six Ways To Lose Weight And Still Have A Blast This Summer
1) Pay attention to snacking.  With summer barbecues come lots of chips, dips, and appetizers. A serving of chips is usually between 9 and 16 chips; and a serving of dip is usually two tablespoons.  Go ahead and taste, but step away from the table to have a conversation.  Sitting in front of these yummy temptations can lead to mindless snacking.
If you're really hungry stick to more of the lighter fare like fresh fruit, a portion of cheese, nuts, cold cuts, hummus, and yogurt dips.  Make sure to combine protein, fiber, and healthy fats to keep you from being hungry again in ten minutes.
2) Have a plan when you eat at buffets. Cruises and hotels offer wonderful buffets. However, when I have a choice between ordering from the menu or the buffet I will usually pick the menu. This helps me avoid overeating.
If the buffet is all you have to choose from, or you really want to try the food, then keep portion sizes in mind when filling up your plate.  Give yourself twenty minutes before going back for a second helping to make sure you are actually hungry.  Finish off your buffet with fruit for dessert which is a healthy way to satisfy your sweet tooth.
3) Consider having your own kitchen when you travel for longer than a weekend.  My husband and I like to rent timeshares or vacation homes with kitchens.  Over the years we've learned that eating every meal out in a restaurant when you are traveling can be a bit much.  If you are traveling for longer than a weekend, I recommend sticking as close to the way you would eat at home eighty percent of the time and enjoy treats for twenty percent of the trip.  Having your own kitchen makes it a lot easier to do this.  In the end, you'll end up feeling less bloated and the chances of overeating are seriously reduced.
If you don't have your own kitchen, try going to a deli or market and creating your own picnic lunch.  You'll have fun shopping like a local and more control over portion sizes.
4) Watch for hidden calories in blended drinks.  Summer is the time for blended drinks with lots of fresh fruit. These "smoothies" can be loaded with calories.  Treat blended drinks like dessert if you're not sure about the ingredients.
The same goes for the whipped drinks at the coffee shop.  A Starbucks Frappucino can be anywhere from 290-490 calories so best to keep these to a minimum.
5) Make sure to hydrate!  Watch your water intake even if you are spending the day by the pool. Water wipes the perspiration off of your body, yet your body continues to perspire in the pool.  When you are dehydrated, it can hinder your liver's ability to metabolize fat.  Fortunately, keeping water close by is a nice easy fix.
6) Play a little more and sit a little less.  Recent research found that as little as a twenty minute reduction in sedentary time on weekends was tied to a loss of more than two pounds per year.  That may not sound like a lot but losing two pounds is always better than gaining two pounds!
Come up with some outdoor activities that you and/or your family enjoy or would like to try. Then, incorporate physical activity into your summer plans.
For example, I love to sit on the beach all day long! It's so peaceful and I leave totally restored.  However, if I'm not careful too much sitting can pack on  a few extra pounds.  To counter the sitting, my husband and I like to go for a long walk and play in the surf with our dogs.
There are so many ways to burn calories while having fun outdoors. Some examples are Frisbee, Flag Football, swimming, boating, paddle boarding, kayaking, hiking, water jogging, and body surfing. It doesn't have to be formal.  If it seems like a chore, pick something else.  It's supposed to be leisure time.
This summer, make sure you take time to rest, play, laugh, and relax.  Reducing stress is one of the best things you can do for your waistline and overall health and fitness.  It really is about balance in every area of your life.
Here's to a happy and healthy summer!
With Love,
Jennifer