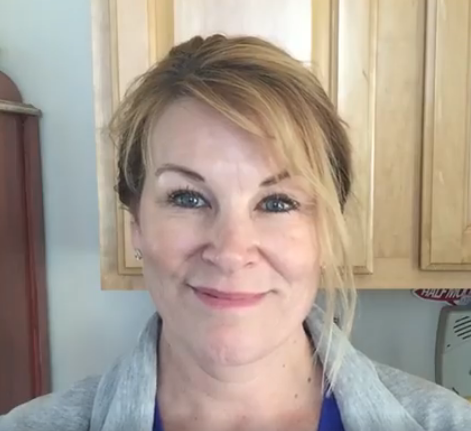 One of the hardest and best things I've ever done for myself and my clients is to challenge a huge portion of the marketing sold to us by the fitness and diet industry.
The notion that, in order for you to be happy, you need to look like a fitness model is pure nonsense and has created endless turmoil in people's lives.  When we force our bodies to become a size they were not designed to be, it is not only next to impossible to maintain, the process can steal your joy.
You are uniquely designed and I believe that God wants you to enjoy your life. He doesn't make mistakes and that is exactly what I remind myself of when I'm tempted to go down the slippery slope of criticizing my body and/or comparing myself to others.
Watch the video below. In it, I share how you can free yourself once and for all from the pressures of the fitness and diet industry.  It is entirely possible to lose weight and maintain it for life.  What that looks like on the scale and in clothing will be different for everyone because no two bodies are alike.
This video, by the way, was originally posted Live on my Facebook page and it's such an important topic I did not want you to miss it so I am sharing it here on my blog and had it transcribed too (see below) so that it may be of help to anyone who sees it.
If you know this video or post could help someone else, please share it with them. This is a message that's worth passing on!
Shared with Love,
Jennifer Ledford
One of the BEST things you can ever do for yourself
Hey there, it's Jennifer here. I'm getting to have lunch pretty soon and I wanted to talk to you real quick before I started in on that, on eating lunch. One of the things I want to talk to you guys about today is one of the hardest things – and BEST things – I've ever done for my own self image and for my own body. And, that is to focus 100% on exercising and doing the things that are good for my body and keeping my body strong but not exercising necessarily for the purpose of weight loss. Exercising to help maintain my weight but not for the purpose of weight loss but for the purpose of keeping my body healthy and strong and eating food for the purpose of health.
Eating food to sustain my body. Eating foods that I know are good for me. And, keeping my diet diverse so that every cell in my body is being activated. So, that's eating lots of whole grains, lots of fruits and vegetables but making sure that I'm eating foods that are delicious and good. And then, also, having fun. Making sure that I'm having fun in moderation. That I'm enjoying things I like. I like wine, I like champagne, I like to go out to dinner, I like to go to parties. And, just making sure that I'm having that fun as well.
Make the right decision for you
So, once I decided that I was going to exercise, I was going to eat well and I was going to have fun, then I decided whatever the scale said, it's what it says. Let the chips fall where they fall. I am not going to be a slave to a lifestyle that I don't want to have. I'm not going to force my body to do something that's unnatural for it. I'm going to have fun and take care of my body but I'm not going to strive to look like someone in a magazine because it's not the lifestyle that I want to live.
Now, if somebody does want to have that lifestyle and they're not hurting their body to do it and it's serving them well, that's fine. That's totally your business. But, what I want to say is find your own set point, find what works for you. Allow your body to be its natural body type and allow yourself to have a lifestyle that you enjoy. It doesn't mean you just let yourself go and you just binge on cookies… that's not what I'm taking about. I'm talking about creating a balance in your life that you enjoy. And then, not getting caught up on what the scale says .
Allow food to be your friend. Allow yourself to have fun. Exercise the way you want to exercise in the way it serves your body. And if that means that you don't fit the mold of what the magazines and the fitness industry is saying is healthy, then, well, whatever! Your doctor is going to let you know if you need to make any changes. Unfortunately, the fitness industry has turned it into a runway for fitness models and not all of us want to live that way. And some of us shouldn't do that to our bodies because it would not – it wouldn't be good for you. And I found that out the hard way – it wasn't good for me.
Finding out who you are
So, one of the hardest things I ever did was I had to find out who I was. I had to find out what I wanted. I had to find out what my natural set point was. And sometimes that goes up higher than I want it to be and then I have to make some adjustments. But, just letting – just committing to a healthy lifestyle. Having a good time, moderation, and finding out what your real set point is, that can be a little scary because you might find out that it's not exactly what gets paraded around in the magazines and that's okay with me!
I have never been more happy and more free in my life.  So, I recommend that you move for fun, eat for health and enjoy your life! Life is way too short to spend it trying to fit into something that a very small handful of people tell us we should look like.
Have a great day! I'm looking forward to talking to you again soon and just go have some fun and eat well and enjoy it. Enjoy life! Talk to you soon. Bye-bye!
This video originally appeared on my Facebook page here. See more Live videos there and see healthy lifestyle and exercise videos here in my Health & Fitness Video Vault.