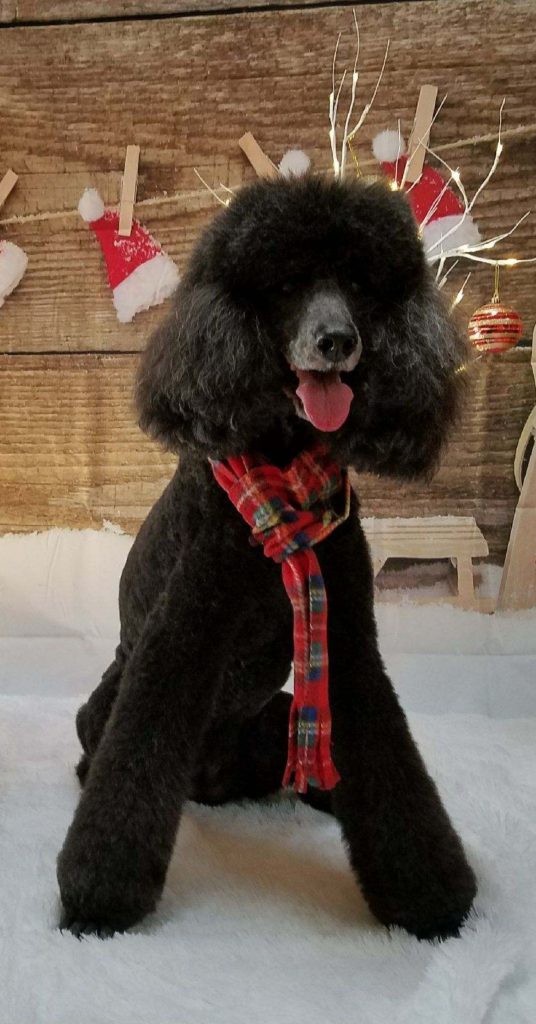 Photo is of our dog Hoppy and courtesy of Happy Tails in Montara.  It was taken after Hoppy's grooming appointment! 
The holiday season is supposed to be the most wonderful time of the year.  However, with parties to attend, gifts to buy, and a longer than normal to do list, the real meaning of this season can sometimes get lost.
Fortunately, there are no rules when it comes to celebrating the holiday season.  You get to decide how much you want to commit to.  Just like your fitness program, how you decide to spend the holiday season is totally up to you.
Here are seven helpful tips to help you enjoy a fun, meaningful, and stress-free holiday season.
1. Plan Ahead.
One of the best ways to avoid stress during the holidays is to  plan ahead. Take a moment to"mind dump" and list everything that is on your plate, such as gift shopping, Christmas parties and recipes to make. When you're done, schedule important dates on your calendar  to make sure you remember your special events. Mental notes are a great place to start, however getting them all down on paper will give you a chance to prioritize what's most important to you.
2. Don't try to go at it alone.
Ask for help.  Allow each member of the family or your friends to pitch in. Need help cooking? Maybe your partner can help you out. If you don't like wrapping presents, find someone in your family who sees it as therapeutic instead of overwhelming.  I'm more of a savory cook than a baker, so making sweets is out of my comfort zone.  However, my Uncle Paul loves to bake pies so we let him take care of dessert.
3. It's OK to Say 'No.'
Over-committing and over-scheduling can happen more often during the holiday season. It can be hard to say 'no,' because you don't want to miss out on all of the fun or may feel obligated to say yes. However, over scheduling can lead to anxiety and stress. Remember that it's OK to say 'no.' People will understand that this is a busy time of the year and you can't do it all.
4. Prioritize Time To take care of yourself.
Just because the holiday season is all about giving, it doesn't mean you should let your own needs fall to the side. Make sure to schedule time for yourself to do the things that help you to recharge.  For me, the daily hike with our dogs is exercise and therapy so I make sure that I set aside time each day to take them out.
5.  Set a Budget.
While you probably won't see those holiday credit card statements until January, you may still feel the stress while checking out at the register.  Spending more money than your budget allows can make you feel less like Santa and more like the Grinch.  Remember that it's the thought that counts.  Most people care more that you remembered them than they do about receiving a pricey gift.  A heartfelt note or handmade gift can leave a lasting impression on someone's heart.
6. Focus on What's Important.
One of the biggest causes of stress over the holidays is the desire to create the "picture perfect" setting. Remember that it is OK if things don't go according to the plan. Don't worry about the burnt cookies or that little disagreement between two of your relatives. Let go of expectations and focus on  the reason for the season.
7.  Be flexible.
It's important to plan, however I recommend allowing yourself the flexibility to be spontaneous and savor precious moments.  The holidays are supposed to be enjoyed so give yourself permission to take advantage of last minute outings, ideas, or visits that can lead to forever memories.
May your holiday season be filled with many blessings!
Shared with love,
Jennifer