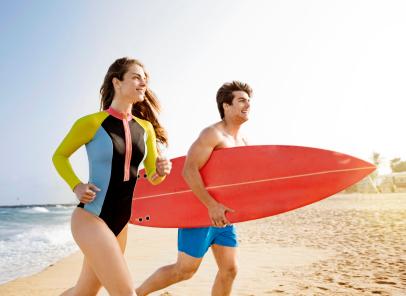 Want to know a simple way to stay active in your spare time — and burn extra calories without it feeling like a "chore?" It's easy! Increase your leisure time activity!
Leisure time physical activity is generally considered any exercise, sport or recreational activity that is not job related; is not a household task; and is not fulfilling a transportation need.
Currently, the average adult in the United States spends 90% of their leisure time sitting. While that statistic sounds a bit scary, it's very simple to stay active and not fall under the "average."
Increasing leisure time activity not only helps you stay active — it can help you with your weight loss efforts, and can positively impact heart health and longevity.
SIX WAYS TO INCREASE YOUR LEISURE TIME ACTIVITY:
1) Find something you like. No amount of coaxing, coaching, or fancy accountability programs will motivate you to stick to something in your leisure time that you are not interested in.
Choose activities you enjoy and that rejuvenate you. Some examples include: playing with your kids, walking your dog, hiking with friends, walking by the water, cycling,  or strolling through a botanical garden. These can all be considered leisure time activities.
2) Turn off the screen. Pay attention to how many hours you spend watching TV and/or surfing on the internet. Try turning off the screen for one day on the weekend. Use that time for physically active recreation.
Sometimes it's difficult to unplug for a whole day. If that's the case, decide how much time you need for your task, set a timer, and log off when you're done. Then, go do something more physically active.
3) Exercise with purpose. Local walks/runs for charities are great leisure activities that also raise money for your favorite causes.
4) Ditch the car. Take advantage of any opportunity to leave your car parked and walk.
5) Track your progress. Step counters are a great way to measure an increase in activity. Seeing the effects of walking to the movies, throwing the ball with your kids, or taking the dog to the park will inspire you to keep it up. Whether you are athletic or not, a monitor can also motivate you to be competitive with yourself — which can lead to an increase in activity.
6) Try something new. Have a desire to try a new activity? Commit to trying it one time. Who knows? You may hit the jackpot and find something you want to keep up regularly.
Some examples would be horseback riding, a golf lesson, visiting the museum, surfing, paddle boarding, hiking in a park and having a picnic, or strolling at a mall you've never been to.
No matter what you choose, keep it fun. It is leisure time after all!
Here's to staying active!
Jennifer Ledford