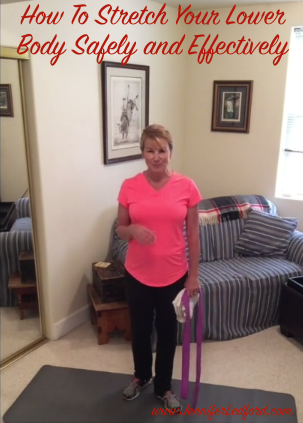 The multiple stresses of modern life caused by things like working at a desk, long commutes, or repetitive use of technology seem to be wreaking havoc on people's bodies these days. Oftentimes, when I begin working with a new private client, the first few weeks are spent working on flexibility and range of motion.  This helps prepare their body to move more efficiently which allows the client to maximize the benefits of their exercise routine and to help prevent injury.
A good exercise routine includes time spent on maintaining flexibility and range of motion to avoid potential joint pain down the road. One of the simplest ways to improve flexibility is stretching.  You don't need to belong to a gym and while some props or equipment are helpful, they aren't necessary.
In today's video I demonstrate the proper way to stretch your quads and your hamstrings both lying on the floor and in a standing position.  It's usually a good idea to know a few different stretches that can accommodate your current fitness needs and/or location you'll be performing the exercise.  For example, you may not want to lie on the floor at your office but it's one of the most important places to stretch your legs after long periods of sitting so knowing some standing stretches is very beneficial in this setting.
Scroll down and take a few minutes to watch the video.  If you have any questions for me, please feel free to leave them in the comment section below or on my Facebook page. Click here to link to my page.
Have a blessed week!
With Love,
Jennifer
How To Stretch Your Lower Body Safely and Effectively
GET INSTANT ACCESS TO JENNIFER'S EXCLUSIVE MEMBERS-ONLY HEALTH & FITNESS VIDEO VAULT YOU CAN USE ANYTIME, DAY OR NIGHT TO TRANSFORM YOUR BODY, YOUR HEALTH, YOUR MINDSET & LIFESTYLE WITH FUN & REALISTIC EXERCISES & TIPS!
Healthy Lifestyle Tip Videos
Lower Body Exercise Videos
Upper Body Exercise Videos
ALL ABSOLUTELY FREE!
NO STRINGS, NO OBLIGATION, NO CREDIT CARD NEEDED!
Facebook Comments:
comments