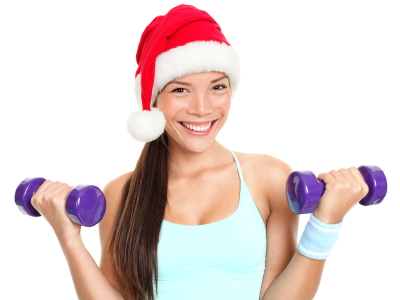 The holiday season is officially here!  I personally love this time of year and my desire for you is that you would enjoy everything the season has to offer without the notorious weight gain that the media and diet industry warns you about constantly.
You may have even heard or read recent media reports that the average weight gain between Thanksgiving and New Year's is seven to ten pounds.  Holy cow!  That number seemed high to me so I did a little digging and fortunately, it's turning out to be a myth. The truth is the average person gains about one to two pounds during the holiday season.
With that being said, I'm guessing you'd rather not gain ANY weight this holiday season so I've put together a list of simple ways you can enjoy yourself without adding on the extra pounds that can come along with it.
Set realistic goals.  If you are currently losing weight, congratulations!  During the holidays I recommend you give yourself a break and set a very vital yet realistic goal. Maintain your weight. If you maintain your weight, you'll already be ahead once January rolls around.
Exercise.  Now is not the time to stop exercising. As tempting as it is to skip exercise to take care of something else on your to do list, you want to burn calories so you can enjoy the special treats without the unwanted pounds.
Plan ahead. Schedule all your commitments for the season on your calendar. This will help you plan your exercise time.  You may decide to exercise at home rather than drive to the gym. Try a mini-trampoline or an exercise video.  Or, take your workout outside and go for a hike or a walk.  Being outdoors is a major stress-reliever.  On days that are tightly scheduled, commit to a minimum of 20 minutes of exercise to keep your momentum and your metabolism boosted. Something is always better than nothing.
Do some offline shopping. You can get in your exercise while supporting your local businesses and salespeople. Win-win.
Pay attention to portion sizes. Take larger portions of the fruits and veggies and smaller than normal portions of the richer fare like scalloped potatoes, prime rib, desserts, etc. Watch the dressings on the salad — put it on yourself and be conservative. Go for the dressings that will drip to the bottom of the bowl. Consider trade-offs such as if you have a glass of champagne, you may want to have just a bite of dessert.
Wear form-fitting clothes. This is a great way to keep weight from piling on. You will know if your weight is out of whack if those jeans feel a bit snug. This will help you take action before things get out of control.
Lighten up traditional recipes. Got to have your pumpkin pie? That's okay! Choose lighter recipes than the more traditional fare. Cooking Light is one of my favorite magazines; however, there are many recipes on the web that have been modified to reduce calories and taste delicious.
Avoid showing up to a party hungry.  This is huge!  Keep fruit, nuts, energy bars, shakes, whatever is your go to snack, with you.  Or, if you're at home, eat a small meal before you head out to the party. When you are overly hungry, you can mindlessly overeat.  The tiny quiches look way more appealing than the fruit and veggie platters when you haven't eaten for hours. Start with a glass of water and then check out the food platters.  If you are dehydrated the body will use hunger to signal thirst.  When you are properly hydrated you will feel more satisfied and full after eating.
There are only a few days that are actual holidays–eat normally the rest of the days. When you treat every day like it's Thanksgiving Day with the excuse "it's the holidays," you are at risk of packing on the pounds.
Use a Fitness Tracker.  Most smartphones come with health apps that allow you to track your steps.  Things like household chores and walking at the mall all count as exercise.  The more physical you get, the more calories you burn.  Keeping track of your activity levels can help motivate you to squeeze in extra steps throughout your day.
Most importantly, have fun!  Stress can contribute to weight gain so be gentle on yourself.
Here's to a happy, healthy, and super blessed holiday season!
With Love,
Jennifer
Have a comment or question?  Please leave it below.  I love to hear from you!

This post contains an Amazon affiliate link which means that if you click on the product link, I'll receive a small commission. Twenty percent of all Amazon commissions will be donated to charity.  It's a pleasure to serve you! 
​
Facebook Comments:
comments