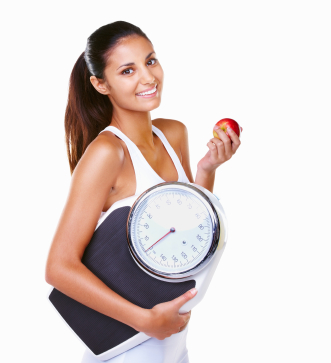 Don't Let Overwhelm Sabotage Your Weight Loss Goals
Losing weight can seem overwhelming when you're first getting started. Dropping pounds and keeping them off for good requires lifestyle changes. It takes time to create new habits and discover what works for you.
I recommend starting off with baby steps. Avoid biting off more than you can chew as  this can result in failure and lead to depression.
Five Tips to Banish Weight-loss Overwhelm:
1)  Get Started! Pick one thing you know you can implement right away. For example, one of my relatives set a goal to stop eating at fast food restaurants. She lost 20 pounds without exercise!
Research is showing that being consistent with one healthy habit creates a desire to do more healthy things for our bodies. This creates a snowball effect. Before you know it, you've lost weight without even trying!
The most important thing to do is to choose one healthy goal and stick to it.
It's also important to be realistic about your time when choosing what your healthy goal will be. Pick something you know you can do 5 to 6 days per week. You're more likely to create a long term habit by walking 15 minutes per day six days a week, than if you walk for an hour two times per week.
3)  Pick things you enjoy. It's much easier to stick to something you like. If you like to get outside, try going for a walk very day.  Like to cook?  Start replacing your traditional fare with the lower calorie version of the recipe. Do you eat out often? Get a free calorie counting app to start tracking the food in the restaurants you frequent to help make lower calorie choices.
4)  Be committed. Once you've determined your new goal, stick to it! It takes a minimum of 21 days to create a habit. However, after being a fitness trainer for over 22 years I've learned it takes about six months for it to become second nature.
Don't be alarmed if you fall off track from time to time. It means you're human. The trick is to get right back up again and start over! Over time your healthy habit will strengthen and falling off track will become rare.
If you find you're continually falling off track, you may need to readjust. Ask yourself questions like:
Is it too lofty of a goal for this time in my life?

Do I like the exercise I chose?

Has something changed in my life?
This is a great way to evaluate the need for a goal change.  Permanent weight loss is a journey not a sprint.
The most important thing I want you to remember is to find healthy habits you can stick to. If you have to change goals it doesn't mean you've failed.  It means you are being realistic!
5)  Don't compare. This one can be tough! You are on your own personal weight loss journey. Avoid comparing yourself to others that are losing weight quicker than you. They could be using an unhealthy fad diet, using an exercise routine that's not right for you, or simply have more time to commit to their exercise routine.
There's no harm in asking what their secret is. But before you add anything new to your health and fitness lifestyle, make sure it's compatible with your own personal goals and desires. Don't allow anyone (including the media) to pressure you into how you should live and what you should look like.
We are all at different places in our journey of health and fitness. The most important thing is long term success! Slow and steady wins the race to permanent weight loss. Stick to your baby steps and you will be amazed at how far you will go!
Have a question or like to share an idea? Please leave a comment below! It's great to hear from you!
Blessings!
Jennifer
Facebook Comments:
comments