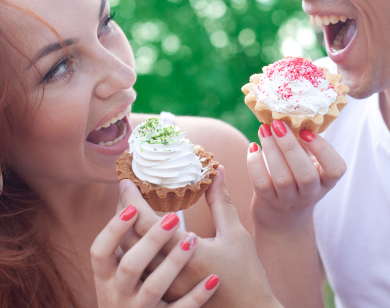 Food cravings can lead to binging and sabotage your weight loss efforts!  If you haven't already, read part 1 — Cravings vs. Hunger: How to Tell the Difference  The last thing I want is for you to ignore true hunger signals. 
Food cravings are normal!
We all experience food cravings from time to time.  Don't worry!  It's normal.  You just need to follow some simple steps that will help you handle the craving and avoid the binging.
First off, there is a difference between craving food and experiencing real hunger.  Part 1 gives you detailed steps on how to tell the difference.
Have you ever heard that if your body is craving a certain type of food, then "it probably needs it?"  This is not always true.  If your body is craving a big salad with lots of raw vegetables, that concept is totally reasonable.  However, I don't think there is anyone on the planet that has to eat Chocolate Chip Cookies to survive!
Simple Tips to Stop Food Cravings from Controlling You!
1)  Give in!  Yes, you read that correctly.  Years ago I was taking classes from a well known nutritionist in southern California.  Because of her location, many of her clients had eating disorders.  She told me a story about a young model who would eat an entire bag of baby carrots in one sitting to keep herself from eating a chocolate chip cookie.  She told the nutritionist she was trying to avoid the "bad" food.
Fortunately, she got some health benefits from  eating the carrots.  But, she consumed more calories with the carrots than if she ate one small cookie.
The point of the story is that when you attempt to eliminate a food from your diet entirely, it can trigger binging. You'll may redirect the binge to another food. Or once you allow yourself to eat the "forbidden" food, you are at risk of over doing it.  Better to have a small amount of the food you are craving than to try avoiding it entirely.  For example, if you crave ice cream, find a low calorie flavor you like and measure out a serving.  You may even find a half serving will do the trick.
Don't let food control you!  If it's only certain foods, try keeping them out of the house for awhile until you can practice moderation.
2)  Go to bed!  When you are in need of rest your body will crave sugar for a pick me up.  Go to bed early that night.  Your body will thank you for it.
3)  Drink some water!  Dehydrated bodies can send a hunger signal.  If you have eaten a full balanced meal within the last few hours, then try a glass of water before you eat more.  If you are still hungry, have a small snack.
4)  Redirect!  Find yourself digging through the cupboards for no reason?  You could be bored.  When you find your self mindlessly foraging for food redirect that behavior.  Try walking, doing a household chore, meditating, catching up on phone calls or email, or reading.  Make a list of replacement activities and keep it posted.  Use the list when the craving begins.
5)  Avoid using food for comfort! We've all heard of "comfort food."  There's no such thing as comfort food.  Food does not offer comfort.  We can associate a positive time in our life with certain foods, which is why you may feel warm and fuzzy when you eat them.
With that being said, elevating your serotonin levels does help fight depression.  But, turning to the sweets to elevate your serotonin levels is not the best choice.  You may feel great for a moment after eating a large piece of cake.  However, when your blood sugar drops, you can go right back into the dumps and may experience guilt for sabotaging your weight loss goals.
Choose a balanced meal with complex carbohydrates to elevate the serotonin in your body.  If dessert is really your thing, have a small serving that will fit into your daily calorie expenditure.
Just remember we all have food cravings from time to time.  It's how we deal with them that will make or break our weight loss and management goals!
I hope this has been helpful.  Please let me know if you have any questions or tips you'd like to share to control food cravings.  I love to hear from you!
Blessings!
Jennifer
Facebook Comments:
comments