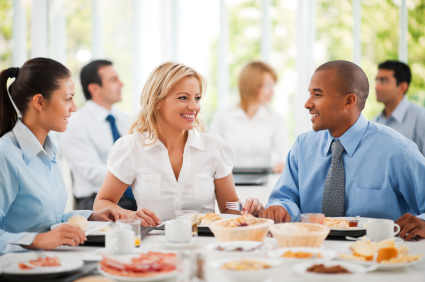 In my last article  How Meal Planning Helps You Lose Weight, I mentioned that the average American eats out four to five times per week. This habit can sabotage your weight loss efforts. Even worse, it can cause you to gain weight! 
But what if you're unable to change that?
I realize that you may be someone who travels a lot, goes out for business, would rather not cook, or you simply enjoy going out to eat.
It IS possible to eat out and lose weight if you follow some simple guidelines. Here are four effective strategies.
1) Business is Business.  When eating out to conduct business of any type keep it low-calorie. Unless it is a major celebration, this is not the time to splurge!
Make sure it's a balanced meal. Pick grilled meats, simple salads, steamed or raw vegetables, and whole grains whenever possible. Avoid skipping carbs entirely or you will be hungry later.  For tips on portion sizes click here.
Portion sizes can be two to three times what you need in some restaurants. Eat slowly and when you begin to feel full, box it up or leave it on your plate.
Before ordering, check the menu for the lighter fare. Many restaurants are including nutrition facts on their menus now. Substitutions are becoming more popular. For example, we're seeing options for using whole wheat pasta instead of white.
Foods that are breaded, cheesy, fried, or have cream sauces should be avoided when possible. They are packed with calories!
Skip dessert when eating out for business. Focus on the business and keep the food secondary.
Pack your suitcase.  When I travel for business I bring packets of oatmeal, nuts, and dried fruit with me. It's an easy meal you can make in your hotel room for breakfast. Pick up a yoghurt at the coffee shop if you want a little extra protein.
Bring snacks that are single servings. You can find single serving packages of nuts, and many hotels have complimentary fruit.
If you're driving to your hotel it's even easier. Bring a small bag of groceries to keep in your room!
2)  Fast Food. I usually avoid fast food. However, sometimes the occasion comes up and I find myself in a fast food restaurant. Fortunately, there are much healthier fast food restaurants to choose from these days.
If you find yourself in this situation, I would much rather you pick the healthiest, low calorie choice you can find, than starve yourself.  That is worse for you in the long run.
Here is a great list of sandwiches to skip courtesy of WebMD. They have included the better choices as well!
3)  Pick and choose!  If you are a social butterfly and go out for fun multiple times per week, start paying close attention to how you order. Use the same principles listed above for business. Then, pick one night per week to splurge.
Get to know your menus at your favorite places. Start entering the calories for your normal choices into a calorie tracker. This will help you decide what you want to order before you get to the restaurant.
Split dishes with fellow diners. This allows you to taste more food without over doing it.
4)  Exercise! If you are someone who eats out often you will have a better chance of losing weight and maintaining it if you exercise daily.
Try these options:
Walk to the restaurant

Hit the hotel gym for 30 minutes

Sneak in time at the office gym at lunch or after work

Walk at lunch

Walk in the evenings

Do early morning work outs
I hope these tips are helpful. It is possible to lose weight when eating out often. However, you do need to pay extra attention to what you eat, and make an effort to burn the extra calories.
Tell me about your favorite restaurant meal or calorie reducing tips while eating out! I love to hear from you! 
Blessings!
Jennifer
Facebook Comments:
comments