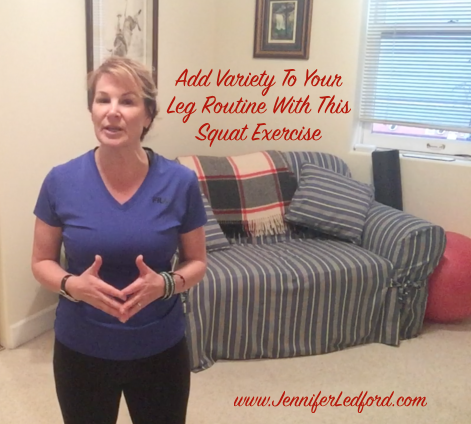 If you exercise regularly, it's easy to get into the routine of doing the same set of exercises every time.  I'll be the first one to tell you that doing the same exercises every time you workout will always be better than doing nothing at all. However, there is something to be said for adding a bit of variety to your workout routine.
Adding new activities to your routine can challenge your muscles, your nervous system, and your brain.  One of the easiest ways to challenge yourself physically and mentally is to move the body in multiple directions during a workout.
Adding Variety To Your Squats
In today's video I demonstrate how to move "side to side" while performing squats.  I've added some upper body work as well.  It's a simple exercise that helps tone and strengthen the legs, glutes, back, and abs.  That's a lot of return for a small investment of your time!
Enjoy the video and have a great week!
Shared with Love,
Jennifer Ledford
FOR MORE VIDEOS, SEE MY HEALTH & FITNESS VIDEO VAULT HERE
Facebook Comments:
comments