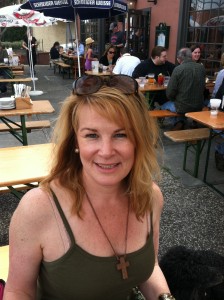 When I was nineteen years old I went to the doctor for a routine check up and when the nurse weighed me, I discovered I was thirty pounds overweight.  After receiving the news, I decided to join a gym and started taking exercise classes.  What's interesting is I never looked at myself negatively at the time.  I simple realized that I had gained more weight than I needed and should do something about it.
I have a background in ice skating, ballet, and cheerleading so being active was nothing new for me.  After taking a few classes, I quickly realized that the fitness industry was something I wanted to participate in and started teaching group exercise classes.
It was over the next few years that I began to fall prey to an obsession with weight and my looks. I experimented with bland diets and trained hard six days per week.  I shrunk down to a size zero and became obsessed with being skinny and having a perfectly flat abdomen.  People were impressed with my tiny yet muscular physique and I was constantly complimented for it.  Life was good!  Until I crashed.
I became depressed, my body was in pain, and my hormonal system was going haywire.  It turns out that I had been overtraining and God didn't design me to be a size zero.   The road to recovery physically was a combination of light exercise (twenty minute walks with my dogs) combined with proper rest, and a much more balanced diet that included way more fat than I had been consuming.
Part of my recovery was to gain weight.  Here's where the emotional healing came into the picture.  Believe it or not gaining weight can be way harder mentally than losing weight.  When you've placed a lot of your self worth on your looks, gaining weight for your health can be a scary proposition.  Ask anyone who has overcome an eating disorder.  I had to stop caring what the magazines and even some of the women in my own family said about how I should look and discover what my natural body weight really was.  It turns out I'm pretty curvy.
By the grace of God I was able to overcome my issues with self image and I'm very comfortable in my own skin today but it wasn't always easy.  I no longer exercise and eat based on the approval of the diet and fitness industry.  I focus on looking my own personal best.  Eating healthy and taking care of my body to maintain an active and fun lifestyle has become the priority.  Being there for my husband and four dogs in a vibrant manner is more important to me than the number on the tag inside my jeans.
When I look back and ask myself who it was all for, I realize that I was searching for the approval of others.  It was a combination of strangers, the fitness industry, and – this one's a kicker – people that had their own image issues they were struggling with.  Don't ever let someone that has their own self-esteem issues coach you on how you should view your self worth.  Love them, but be careful what you take in.
I believe we have a responsibility to take care of ourselves in a healthy way and look our best.  However, I don't believe in crazy dieting that is restrictive and leaves you hungry.  Or exercising to the point of discomfort just to fit in and be accepted by a certain percentage of our society.  Bodies really do come in all shapes and sizes and exercise and diet is extremely personal.
Whether you've been on a health and fitness journey for some time now or you're just getting started, it's important that you're motivated by the right reasons.   It's completely normal to want to feel good about how your clothes fit, look your best for your spouse, or get in shape so you can play with your kids.  But, if you're torturing and/or harming yourself just to gain the approval of those around you, I encourage you to take a step back and reevaluate.  Doing whatever it takes to be camera-ready is a lot of pressure for a model or an actor and they are getting paid for it.  Why take on that stress when you aren't even getting paid?
We all have a responsibility to look and be the best we can be.  I believe becoming strong and  lean is a healthy goal as long as reaching your ideal physique doesn't require unhealthy diets or overtraining your body to the point of a potential injury.  I encourage you to design a healthy lifestyle you can sustain and keep it fun.
Bodies will age and our looks will change; that doesn't mean you can't age with grace.  I want that for you and I'm here to help you do it.  It just means we should focus on shining as brightly on the inside as we do on the outside.
I believe 2016 is going to be a phenomenal year.  I pray it's your most successful year yet in every area of your life.
Shared with love,
Jennifer Ledford
Facebook Comments:
comments