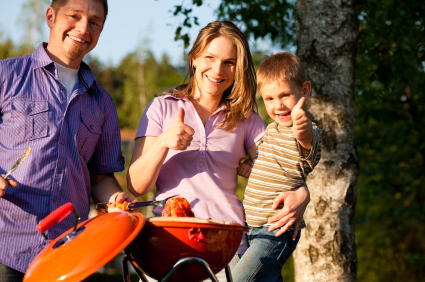 Summer has arrived! This means vacations and lots of outdoor festivities!
Summer is also the easiest time of year to lose weight. An abundance of daylight, outdoor activities, and fresh fruits and vegetables all contribute to easy weight loss.
But don't get caught in these traps!

1) The snack trap!  With summer barbecues come lots of chips, dips, & appetizers. Did you know that a serving of chips is usually between 9 and 16 chips; and that a serving of dip is usually two tablespoons? Go ahead and taste, but step away from the table to have a conversation.
Avoid sitting down in front of these yummy temptations! This can lead to mindless eating and lots of unwanted calories.
2)  Use this strategy at vacation buffets. Cruises and hotels offer wonderful buffets. However, when I have a choice between ordering from the menu or the buffet I will usually pick the menu. This helps me avoid overeating.
If the buffet is all you have to choose from, or you really want to try the food, then keep portion sizes in mind. Remember you will be eating lunch and dinner! You may not want to spend all of the calories at breakfast. If breakfast is your favorite meal and you want to splurge, then consider a salad for lunch.
3) Watch for hidden calories!  Summer is the time for blended drinks with lots of fresh fruit. These can be loaded with calories. Treat tropical drinks as a dessert if weight loss is the goal.
The same goes for the whipped drinks at the coffee shop! A Starbucks Frappucino can be anywhere from 290-490 calories!
4)  Don't let the heat stop you!  Hot weather can cause us to slow down a bit. Your body is telling you to pay attention to the heat.
Exercise outdoors in the early morning or evening when in a hot climate. Or exercise in an air conditioned environment. Many hotels and cruises offer morning classes for this reason.
5) Make sure to hydrate! Watch your water intake even if you are spending the day by the pool. Water wipes the perspiration off of your body, yet your body continues to perspire in the pool. If you get dehydrated, heat stroke can occur.
If you're not sure how to tell when you are dehydrated, you can refer to one of my recent articles on How Water Helps You Lose Weight.
Play a little for weight loss!

Think about outdoor activities that you and your family enjoy. Then, incorporate physical activity into your summer plans.
For example, I love to sit on the beach all day long! It's so peaceful and I leave totally restored. To counter the sitting, we go for a walk and play in the surf with our dogs. Carrying all of the gear down to the beach is a pretty good warm-up!
There are so many ways to burn calories while having fun! Try Frisbee, Flag Football, swimming, boating, and body surfing. It doesn't have to be formal. If it seems like a chore, pick something else!
Most of all have fun!  Make sure you rest, play, laugh, and relax!
What's your favorite summer activity? I'd love to hear what you have to share!
Blessings to you and yours!
Jennifer