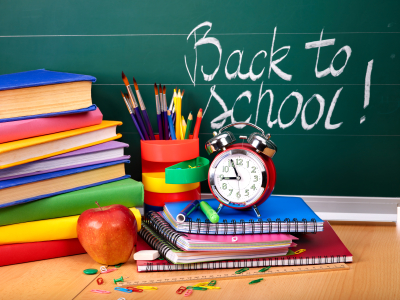 You can feel it in the air! Summer is ending. The light is changing and it's back to school time! Whether you are a parent, teacher, student, or simply getting back to a Fall routine, the new season usually means much busier schedules.
A shift in schedule can potentially derail your weight loss goals if you let it. I've put together some simple guidelines on how to stay on track while adjusting to the new season.
Five Easy Weight Loss Tips for the Back to School Season!
1)  Plan!  Back to school usually means a more set routine. This can be used for your benefit to help you lose weight! Pull out your calendar and determine when you have time for exercise, meal planning, and healthy meal preparation.  Write these activities in like like any other important appointment.
Avoid biting off more than you can chew.  Look at your calendar before saying yes to extra projects.  If saying yes will interfere with your weight loss goals, you may want to take a pass for now.
2) Brown bag it! Breakfast is key to successful weight loss. If time is tight in the mornings, a healthy egg sandwich or smoothie are easy to eat on the go. Do your best to eat by 9:00 am, and no later than 10:00.
Pack lunches and have healthy snacks on you at all times. No matter what your day looks like, busy and hungry are a dangerous combination for weight loss. By planning ahead, you'll have more control over the food you eat.
And if you are shuttling kids, pack snacks to have on hand. Not only will it contribute to their good health, it will save you time as well.
3)  Order out!  After looking at your schedule, you may realize that cooking some nights will be a stretch.  Let someone else do the cooking for you! Order healthy pre made meals from a company like Magic Kitchen.
4)  Get creative! If your normal exercise time is conflicting with your child's activity or sport, go for a walk while you are waiting for them. One of my clients decided to get a low cost membership at the gym across the street from her daughter's dance class.  She's going to run on the treadmill while her daughter is taking class.  Another option would be to see if there was an adult class to try during her daughter's class.
Early morning and lunch time workouts are a great way to sneak exercise into the day. This strategy helps you avoid evening interruptions such as working late. 
5)  Create a fit lifestyle!  One of the reasons people are so much more active in the Summer is all of the fun outdoor activities that are available. That doesn't have to end just because it's Fall.  Like the beach or hiking? Bundle up and take a walk. Personally, I think Autumn is one of the most beautiful times of year!
Choose active recreation on the weekends to counter the less active time during the week. Recreational activities are a great cross trainer if you are doing more formal gym workouts during the week.  Try turning off screens (computers, TV, phones, etc. ) as much as possible on the weekends!
All it takes is a little bit of planning. Fall is a great time to meet your weight loss/management goals.  Embrace this time of year and all of the fullness it brings!
Please let me know if you have any questions or a tip you'd like to share!
Blessings!
Jennifer