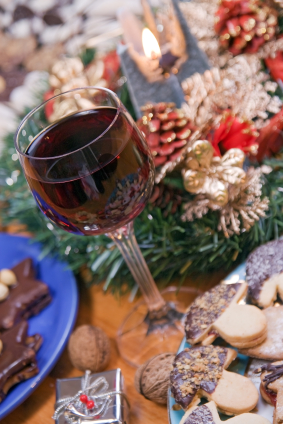 It's that time of year again! The Christmas decorations are going up and the parties have already begun.
Personally, I am so excited we are entering this time of year! However, from years of experience in the fitness industry, I know some of you are already thinking about how to enjoy the holidays without the weight gain. You might even be a bit nervous about succeeding.
The good news is it is totally possible  to enjoy the holidays without the weight gain!  All you need to do is follow some easy tips:
1) If you are currently losing weight congratulations! During the holidays, I recommend you set a very vital yet realistic goal. Maintain your weight. If you maintain your weight, you are already ahead when January comes! Keep it simple and realistic.
2) Now is not the time to stop exercising. As tempting as it is to skip exercise and snuggle on the couch with a glass of wine or cup of your favorite hot beverage, you want to get your calories burned so you can enjoy the special treats without the unwanted pounds.
3) Plan ahead. Schedule all your commitments for the season on your calendar. Schedule exercise time too. You may decide to exercise at home rather than drive to a gym. Try a mini-trampoline or an exercise video.
On days that are tightly scheduled, do your best to commit to a minimum of 20 minutes of exercise to keep your momentum and your metabolism boosted. Take advantage of every opportunity to be active that comes up.  Something is always better than nothing. Every minute of exercise counts!
4)  Do some off line shopping. You can get in your exercise while supporting your local businesses and salespeople. Win-win.
5)  Pay attention to portion sizes. Scan the table before serving yourself to help you plan your meal. Take larger portions of the fruits and veggies and smaller than normal portions of the richer fare like scalloped potatoes, prime rib, desserts, etc. Watch the dressings on the salad– put it on yourself and be conservative. Go for the dressings that will drip to the bottom of the bowl.
6)  If you do not already track your daily calorie intake, consider keeping track for the next 26 days to catch any potential weight gain before it happens.
Remember, it boils down to calories burned versus calories consumed, so choose treats wisely. Most of us only need about 1500-2000 calories daily, depending on the type of exercise we do and how much "lifestyle" activity we do each day. Save the higher calories for super special treats. Trade-offs work well. For example, if I have a glass of champagne, I will probably have only a bite of dessert.
7)  Wear form fitting clothes. This is a great way to keep weight from piling on. You will know if your weight is out of whack if those jeans feel a bit snug. You can take action to prevent further gain. – Courtesy of InStyle magazine
8)  Lighten up traditional recipes. Got to have your pumpkin pie? That's okay! Choose lighter recipes than the more traditional fare. Cooking Light is one of my favorite magazines; however, there are many recipes on the web that have been modified to reduce calories and taste delicious.
9)  Avoid showing up to a party hungry. Keep low calorie snacks like fruit with you.  Eating something before you arrive will keep you from eating mindlessly. When you are starving, the tiny quiches look much more appealing than the fruit and veggie platters.
10) There are only a few days that are actual holidays–eat normally the rest of the days. Allow yourself to indulge on the actual holidays themselves — like Christmas Day, or New Year's Eve.
On the rest of the days, stick as close to your normal healthy eating plan as possible. If you allow yourself a daily treat, that's the time to work in a small piece of peppermint bark, or a small cookie.
Use these tips and you can enjoy the holidays without stressing out about the weight gain
If you have any personal secrets to keep you from gaining weight during the holidays, I'd love to hear about them.  You can share them by leaving a comment below!
Blessings to you and yours!
Jennifer